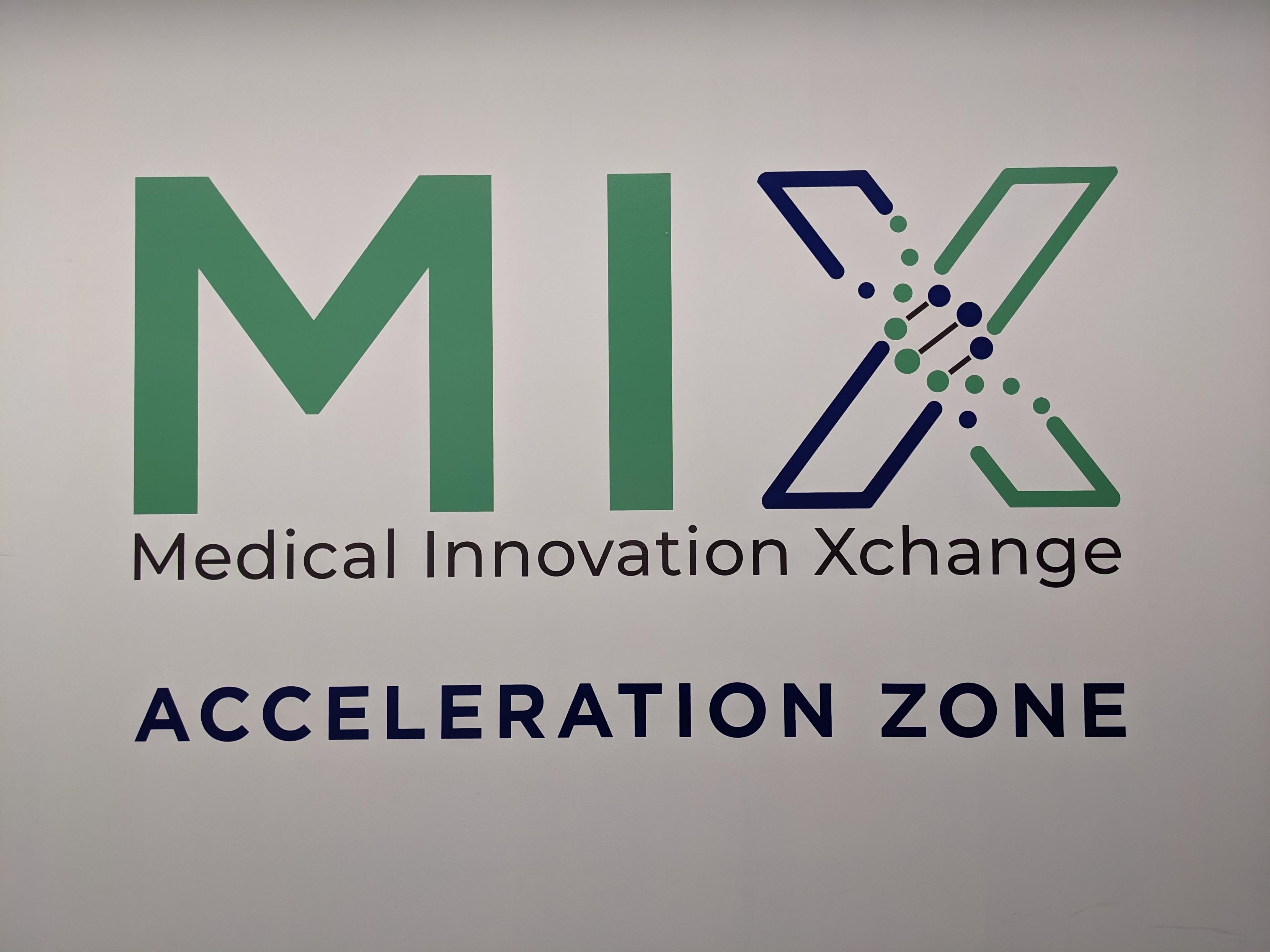 MIX-Acceleration Zone; changing the game for Canadian medtech.
A newly opened manufacturing, assembly, and collaborative space in Waterloo Region is helping medtech innovators expand their business.
The MIX Accelerator Zone (MIX AZ) opened in fall 2022 in Kitchener. As the region's first manufacturing and assembly space for scaling medtech companies, the MIX AZ boasts 10,000 square feet of manufacturing space. Companies are able to rent space within the building for manufacturing, assembly and distribution purposes.
Kitchener-based FluidAI was the first company to move into the MIX AZ. Co-founder and COO Amr Abdelgawad says they were able to take advantage of a 1,500-square-foot section of the MIX AZ, tripling the square footage of their space to allow them to continue scaling their business.
"It definitely gave us the space we needed to be able to have a proper manufacturing line," Abdelgawad said. "What we had in our previous 500-square-foot space was good enough for production quantities for our clinical trials, but this new space is ready for a commercial launch and scale."
FluidAI specializes in monitoring patients after gastrointestinal surgeries. They've developed a pocket-sized device that augments drains and catheters to monitor fluids in the abdominal cavity, looking for specific markers related to anastomotic (gastrointestinal) leaks. FluidAI received Health Canada certification earlier this year and is now working towards a launch in Canada, KSA, and in countries worldwide. Now with the space and tools they need to continue to expand their business, FluidAI has a busy 2023 ahead.
When developing the MIX AZ, the team at MIX worked closely with Velocity, which offers the only other collaborative medtech space in Waterloo Region. Startups similar to FluidAI move through Velocity's program and need to find somewhere to continue their expansion after graduation. That's where the MIX AZ comes in, offering purpose-built space and collaboration opportunities for medtech innovators to continue moving forward with their startups.
The space allows businesses to grow in place and expand within the MIX AZ. It also offers unique collaboration spaces, along with providing access to expensive equipment that may not otherwise be available to scaling medtech companies.
"One of the unique aspects of the Waterloo region is the ecosystem that has been built to support startups," Abdelgawad says. "We've got a strong startup network where entrepreneurs can support and help each other."
Abdelgawad says he's had the opportunity to network and collaborate with other Waterloo Region startups at the MIX AZ and through MIX as a whole. "We're benefitting from understanding each other's challenges and talking about how we can support each other," he says.
It's all working to create a strong startup network right here in Waterloo Region.
"Having all these puzzle pieces, in particular in Waterloo Region, and having MIX to be able to support and have a landing spot for healthcare startups will be a reason for healthcare companies to continue to succeed moving forward and grow locally," Abdelgawad says. "The pathway has been paved properly now, all the way from concept ideation until scaleup, and MIX is an essential part of that process."
Companies accessing the MIX AZ have the ability to grow in place, keeping medtech talent here in Waterloo Region. In the past, businesses had to move out of the area to find advanced lab and manufacturing facilities. With space available at MIX AZ, companies can access local talent, including through post-secondary co-ops or hiring new graduates. Abdelgawad says their team is already collaborating closely with students and co-op programs at the Universities of Waterloo and Guelph, helping keep local talent close to home. "Remaining in this ecosystem is going to allow us to grow, both from a talent perspective and an ecosystem perspective," he says. "All of these networks are providing us with backup and support and, honestly, we really wouldn't be here today without that support."
As the space expands, so too will the network of medtech companies in the region and beyond. "We're all in this together," Abdelgawad says. "We're all in this to make sure that we're creating a better health-care environment. Everyone's following the same pathway and we're very lucky to be a part of the evolving entrepreneurship environment over here."
The space at MIX AZ is about half full, meaning there's plenty of space to grow. "We see ourselves staying here for the foreseeable future," Abdelgawad says. "I don't see a reason why a lot of companies wouldn't consider moving into the MIX AZ, especially if they're setting up their own in-house manufacturing."